Types of Dashboards
There are three types of business dashboards which differ by area of use and the time employees spend on them.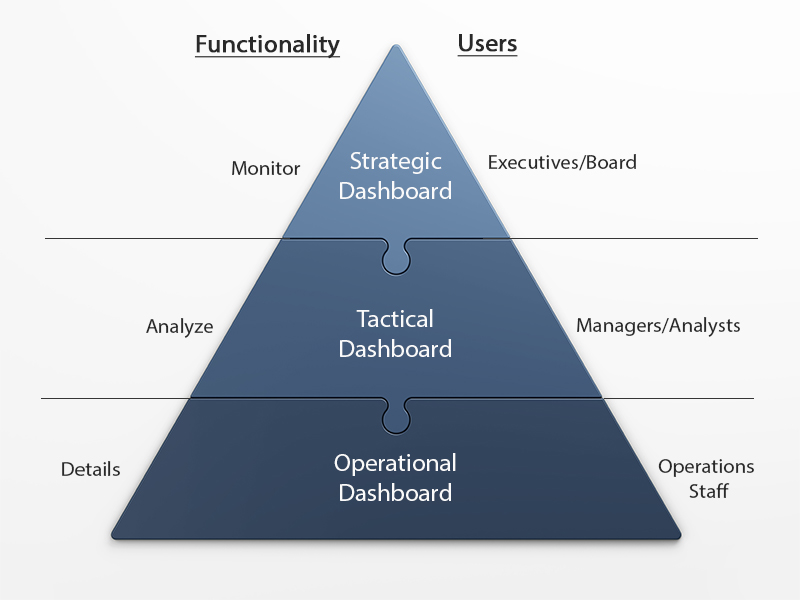 1) Strategic Dashboards
Used at the highest level of company management, strategic dashboards are designed with the balanced scorecard methodology in mind. Developed by David Norton and Robert Kaplan, this analysis technique is designed to create specific, quantifiable goals from an organization's mission statement and business strategy. The method then allows its users to monitor performance in terms of achieving the company's goals.
Strategic dashboards are used to monitor a company's progress in achieving its predefined goals through relevant KPIs. For instance, for the sales department, dashboards record and track sales results, their trends and changes. Meanwhile, in the manufacturing department, production metrics are very important. Therefore, details such as product return date can identify positive and negative trends that can affect the company.
Business dashboards in this category also allow top level executives to see generalities first before delving into more detailed reports. To simplify the information and make it clear and transparent, increased data aggregation and graphic design are used.
2) Tactical Dashboards
Traditionally used by the middle management tier, tactical dashboards allow their users to assess the market's reaction to their companies' actions. However, some managers use this software internally, investigating how small changes or tasks influence their company as a whole. Regardless, users will get deeper insights into analyzed data and even solve problems by tracing their history and causes. Therefore, they can make better decisions which can improve a company's stance in the present.
Unlike strategic dashboards, tactical ones are designed for more detailed purposes such as tracking trends related to the company's goals and initiatives. For instance, a sales department using tactical dashboards won't only see the totals, but also information regarding a product's sale. Based on the information, sales managers can make decisions such as deciding to launch a product on a given date. On the other hand, quality is an important metric for the manufacturing department. Through their dashboard, supervisors can set regular quality review meetings among other related tasks.
3) Operational Dashboards
While the first two types of dashboards have a lot in common, operational dashboards significantly stand out. As their name suggests, they are used on an operational level in a given department, by its employees. As a result, they offer detailed insights, allowing their users to design work processes that increase benefits or revert trends. For instance, an operational dashboard in the sales department will allow employees to compare current sales with those from the month before. The software can also group sales data, identifying top salespeople and the best customers. As for the manufacturing department, comparing actual monthly production with target rates helps in identifying issues or opportunities.